Have you heard? Toast is trending! Shake up your breakfast routine with this easy recipe or devour it as an afternoon snack. To use up any leftover ricotta cheese, spread it on tomato slices, sprinkle breadcrumbs on top, and broil for a few minutes. 
Nutrition Facts
Tomato & Ricotta Toast

Calories
127 Per Serving
Protein
12g Per Serving
Fiber
3g Per Serving
Cost Per Serving
$1.03
Nutrition Facts
×
Calories
127
Total Fat
1.1 g
Saturated Fat
0.2 g
Trans Fat
0.2 g
Polyunsaturated Fat
0.2 g
Monounsaturated Fat
0.5 g
Cholesterol
5 mg
Sodium
236 mg
Total Carbohydrate
16 g
Dietary Fiber
3 g
Sugars
5 g
Protein
12 g
Dietary Exchanges
1 lean meat, 1 starch
Ingredients
1 cup fat-free ricotta cheese
2 tablespoons chopped green onion or scallions
3/4 teaspoon sodium-free Italian seasoning
1/8 teaspoon ground black pepper
4 slices whole-grain or whole wheat bread (lowest sodium available)
2-3 medium tomatoes (thickly sliced)
Directions
In a small bowl, add ricotta cheese, chopped scallions, Italian seasoning, and black pepper. Use a spoon or spatula to combine.
Meanwhile, toast each bread slice and thickly slice each tomato. To assemble, spread each piece toast with ¼ cup ricotta mixture and top with tomato slices. Serve.
Cooking Tip: The same amount of chopped chives or red onion can be substituted for the scallions.
Keep it Healthy: Compare labels for Italian seasoning, making sure to go with the one without any added sodium. Or, consider making your own using equal proportions of the following dried herbs: basil, oregano, thyme, rosemary, and garlic powder.
Tip: Serving size 1 toast
Tip: Prefer to turn this toast into a hot sandwich for lunch? Simply place toast on a foil-lined baking sheet and pop under the broiler until cheese is melty, about 1 to 2 minutes.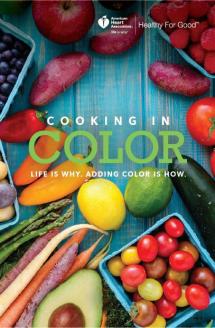 Cooking in Color
This digest-size recipe booklet includes 27 healthful recipes, all including fruits, vegetables, or both. Each recipe is accompanied by a vibrant photograph, and the recipes are organized by color. Also included is a fruit/veggie storage guide and a fruit/veggie equivalency guide.
Shop Heart
Copyright © 2018 American Heart Association, Healthy for Good™. Every purchase helps fund the work of the AHA/ASA.