For a weekday morning rush, you'll be glad you prepared this American, Simple Cooking with Heart breakfast recipe the evening before. Or, let your child take the reins and mix the oatmeal together.
Nutrition Facts
Overnight No-Cook Banana Oatmeal

Calories
443 Per Serving
Protein
18g Per Serving
Fiber
10g Per Serving
Cost Per Serving
$1.88
Nutrition Facts
×
Calories
443
Total Fat
9.7 g
Saturated Fat
1.4 g
Trans Fat
0.0 g
Polyunsaturated Fat
3.2 g
Monounsaturated Fat
4.2 g
Cholesterol
3 mg
Sodium
68 mg
Total Carbohydrate
74 g
Dietary Fiber
10 g
Sugars
21 g
Protein
18 g
Dietary Exchanges
3 starch, 1 fat-free milk, 1 fruit
Ingredients
2 1/2 cup skim milk
1 Tbsp. honey
1 tsp. vanilla extract
3 1/2 cups rolled oats (not instant or quick-cooking)
2 bananas, halved lengthwise and sliced
1/4 cup chopped, unsalted pecans or walnuts
Directions
In a large, re-sealable container or bowl, add milk, honey, and extract. Stir to combine, adding oats and stirring to combine. Seal or cover; place in the refrigerator and let it sit overnight.
The next day, peel each banana. Halve each one lengthwise and slice. Divide sliced bananas and nuts over each oatmeal portion. Serve.
Cooking Tip: Play around with the combination of oats to milk ratio. Like an oatmeal with a thicker consistency? Use more oats. Prefer it liquidy? Go higher on the milk.
Keep it Healthy: Add a variety of goodies into the oatmeal when preparing it the night before like dried fruit, unsweetened coconut, pumpkin seeds, flax seeds, chia seeds, etc. Chopped fresh fruit, like bananas, go brown if added the night before; it's best to top with fresh fruit right before eating.
Tip: Baking raw, dry oats for 1 hour at 250F can help make sure foods are safe and prevent food-born illnesses.
Tip: Natural sweeteners such as maple syrup or honey are a great way to add a touch of sweetness instead of sugar. Even a little bit of fruit juice like orange juice can provide sweetness.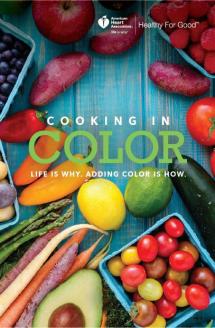 Cooking in Color
This digest-size recipe booklet includes 27 healthful recipes, all including fruits, vegetables, or both. Each recipe is accompanied by a vibrant photograph, and the recipes are organized by color. Also included is a fruit/veggie storage guide and a fruit/veggie equivalency guide.
Shop Heart
Copyright © 2018 American Heart Association, Healthy for Good™. Every purchase helps fund the work of the AHA/ASA.